In a year filled with many great local dance performances and programs, here are eight that have touched the hearts and minds of local audiences in very different ways.
Shana Simmons Dance – The missing piece (Bricolage Theatre, March 2-10) Dancers/choreographers Shana Simmons, Brady Sanders and Jamie Erin Murphy turned to areas of concern in their own lives for inspiration to The missing piecea contemporary dance multimedia work about identity, suicide and Alzheimer's disease that delivered messages of hope, struggle and resilience.
CORNINGWORKS- In the house: intimate interiors (The Mattress Factory, March 14-18) Choreographed by Beth Corning and directed by Dominique Serrand, this site-specific dance-theatre piece was pierced with poignant characterizations of damaged individuals who plumbed the depths of the human emotion and shook viewers to their core with engaging performances from a cast that couldn't have been more engaging.

Theater of attack – If/Maybe/Then (April 12-29, former Homestead Office Depot)
The site-specific interactive multimedia production combined video projection mapping and motion tracking technologies to both dazzle and bewilder audiences. The unique work about a group of fictional time-traveling aliens brilliantly played with the psychology of choice and perspective.
Pittsburgh Ballet Theater – West Side Story Suite / Into the Night / Fancy Free (May 4-6, Benedum Center)
Celebrating the 100th birthday of the late choreographer Jerome Robbins, PBT and the PBT Orchestra performed three of the choreographic giant's ballets, including Carefree, Sailors on Shore Leave, Fantasy Freebewitching it The nightand Leonard Bernstein's score and very entertaining West Side Story Suite which made the PBT performers sing and dance.
newMoves Contemporary Dance Festival (May 11-19, Kelly Strayhorn Theater)

Headlining Bill Shannon's Thought Provoking Tap Update which blended dance, video installation and portable projection technology, Kelly Strayhorn Theater's annual festival with national import featured a cornucopia of local dance artists including Jil Stifel, Maree ReMalia, the Staycee Pearl Dance Project , Nick Daniels, Exhalations Dance Theater and Moriah Ella The Mason.
Maria Caruso – wailing (September 29, Succop Theater)
As part of Butler County Community College's Bodiography Contemporary Ballet program, Maria Caruso skillfully captured the passionate expression of pain contained in Martha Graham's iconic 1930 solo. wailing it was breathtaking and fitting for Graham herself.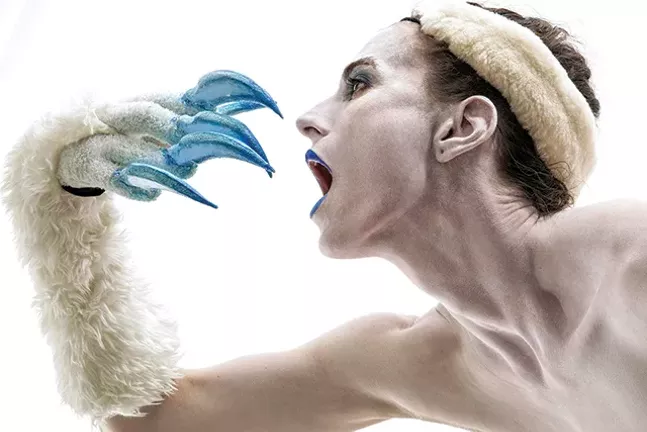 The cover – the Project Christopher Williams (October 26-28, New Hazlett Theatre) Bold, bizarre and grotesquely beautiful, the Project Christopher Williams presented excerpts from the New York choreographer's best-known dance works, BesiePremium Ursula and the 11,000 virginsand The golden legend. Set to music that was medieval and steeped in the iconography and literature of that period, Williams' impassioned choreography for a series of dancing portraits of saints and the performance of the dancers from The Blanket were wonderful.
Conservatory Dance Company – Winter dance concert (PNC Theatre, Dec. 7-16) The stellar works of four world-renowned choreographers contributed to one of the best overall productions from the Point Park University student dance company in years. From choreographer Tyce Diorio's tribute to the sweeps of Charlie Chaplin and Edwaard Liang The art of Warat Aszure Barton's Rustic Gem happy little thingsand Nacho Duato Palmerasthe program has delivered on all counts.