Soaring productions will offer free aerial dance performances outside two buildings in the heart of the Tenderloin this weekend, in a bid to highlight the impacts of mass incarceration.
Dance company performances Meet us quickly with your mercy will feature two different cages and other steel artifacts, original music by Jewlia Eisenberg, and choreography by Flyaway artistic director Jo Kreiter. Research and text for the performance series were provided by the 2020 Pulitzer Prize finalist Rahsan Thomas, who lives behind bars at San Quentin State Prison. The series of dances will take place on the exterior walls of CounterPulse Theater at 80 Turk St. (near Taylor) and the nearby Dahlia Hotel, and is presented in partnership with the Museum of the African Diaspora (MoAD).
Kreiter tells Hoodline that she and Thomas don't recall the series of calls or emails that led to this collaboration, but that Thomas was part of the vision for the whole project, from the art exhibit that will be featured inside CounterPulse to the public artwork performed on the exterior of the theater.
Left to right, Maddy Lawder, Sandia Sexton, Megan Lowe, Bianca Cabrera and Clarissa Dyas in 'Meet us soon with your mercy' | Photo by Brechin-Flournoy
"Flyaway asked him to write an article about the importance of black and Jewish dialogue…he chose to focus on the monolith that is white supremacy and how it intersects with black and Jewish struggles," said Kraiter. This article, pushed and pushed, focused on white supremacy in prison and is the basis of the first installment of the program. A second article he wrote, Why am I running to jail, informed the third section of the dance with an emphasis on the pursuit of freedom. Thomas also connected Kreiter to Ear Hustle, a podcast he co-hosts and records at San Quentin so she can incorporate the sounds of the state prison closing to use in the piece.
"I visited him four times," and the two exchanged hundreds of letters and phone calls, Kreiter said. But "he can't see the room. He is in prison. She said the two have engaged in other artist endeavors as prison abolition activists over the past four years.
"Black abolitionists, when talking about prison, often use the term 'caging' to sum up the dehumanization that prison is," Kreiter said. "So I took that tongue and turned it into a real cage in the room."
There will be two cages used in the dance that are built to the same dimensions but rigged very differently to reflect the differences between the capture experiences of blacks and Jews, Kreiter said. She and Thomas have read several books together and discussed them while writing the article, including We Are Not Afraid by Seth Cagin and Philip Day, which uses court transcripts and interviews to tell the stories of three rights activists civics who were kidnapped and killed in Mississippi in 1964.
"It was a definitive book for both of us," Kreiter said. "We learned a lot about the depth of American terrorism against black people and tied that to Rahsaan's current situation in San Quentin."
The main objective of Meet us quickly is to present a universal call for an end to mass incarceration, she added. This is the second in a trilogy of performances intended to amplify the call for racial justice. The first piece, The waiting room, opened in San Francisco in April 2019 and traveled to the grounds of Sing Sing Prison in New York's Hudson Valley that same fall.
Meet us quickly is a site-specific piece designed to be played on CounterPulse, so it won't make it to other cities.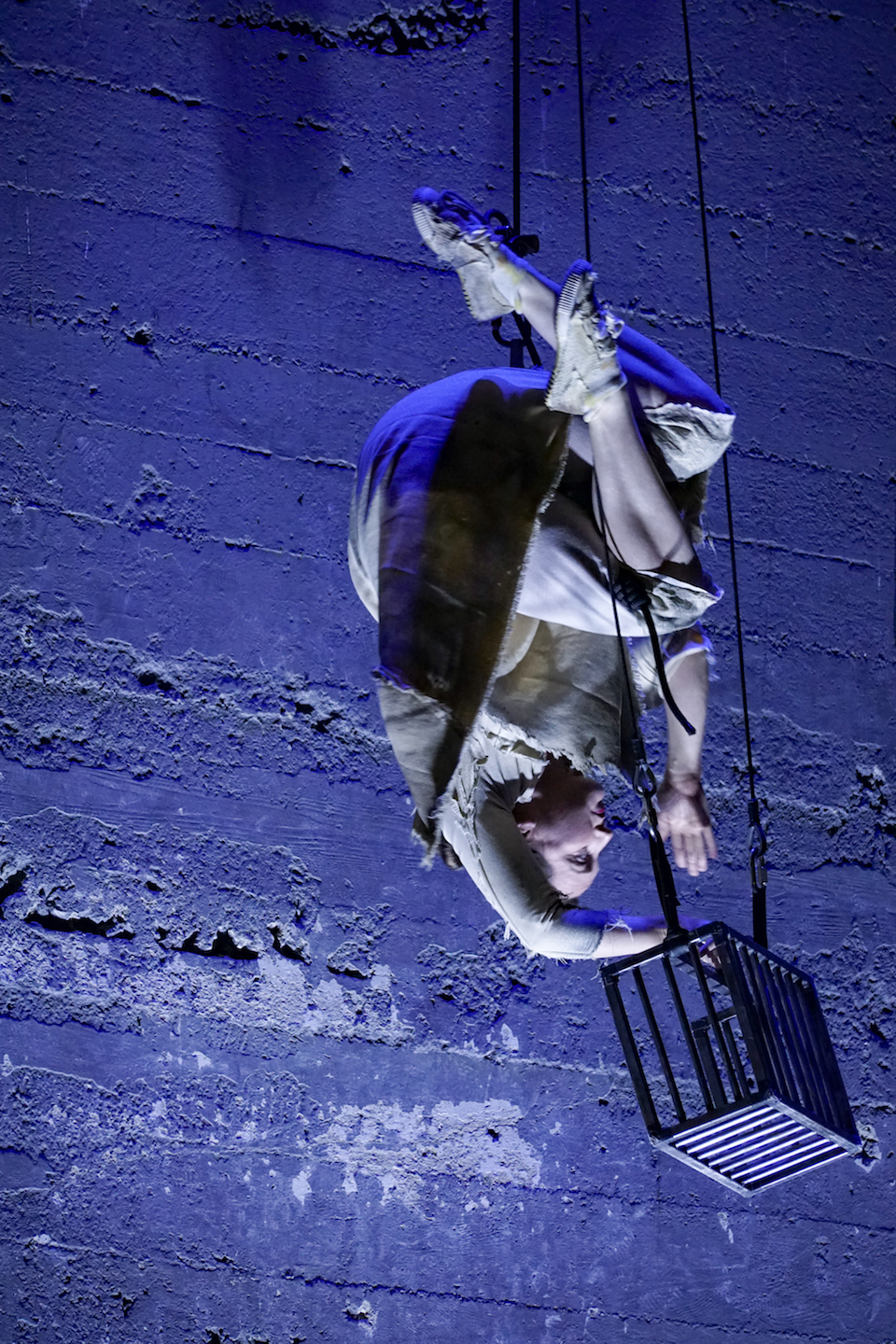 Helen Wicks in "Meet Us Quickly With Your Mercy" | Photo by Brechin-Flournoy
The location for this year's performances was chosen because "the audience will be standing in front of 111 Taylor, which is the city's halfway house for people getting out of prison," Kreiter said. The facility at 111 Taylor St. (in Turk) is owned and operated by GEO Group, a private prison contractor which is paid according to the number of people in its facilities.
Performances will be at 7 p.m. and 8:30 p.m. October 14-16, with an additional performance at 5 p.m. on Saturday; and at 7 p.m. on Sunday, October 17. Participants are requested to register for free tickets via CounterPulse to enable social distancing.